YOUR SUMMER VACATION IN THE STATE OF SALZBURG
Whether it be an idyllic bathing or a chill highland lake; an Alpendorf town cable-car ride at great heights or a relaxing hike in Salzburg's Alps; a culture trip to the Mozart-town Salzburg (approx. 55 km) or to the Fortress Hohenwerfen – our Haus Sonnhang guests will have the agony of choice – since you will find yourself in the middle of it all!
Hiking for young and old – The Geisterberg (ghost mountain)
Families may pay goofy Alp ghosts in family-friendly Alpendorf town a visit in spring, summer and autumn. Little ones will find all sorts of ghosts while hiking the Wichtelweg (imp path). Air swings, birds' nests, a climbing dragon, a ghost tower, trick fountains, a ghost lake, cone shooting galleries and much more are awaiting the grown-ups in the alpine leisure park.
Geisterberg:
---
Tel: +43 (0)6412 / 6036
Web: Geisterberg
Adventure Fortress Hohenwerfen
Since 900 years has resided at great heights the Fortress Hohenwerfen, which keeps guard over the town Werfen. Following the trail of the Middle Ages, you may visit museums and explore extensive walls, stop by arms exhibitions or observe graceful raptors during a raptors' show. Providing new events on a regular basis, the Adventure Fortress represents an alluring vacation destination.
ADVENTURE FORTRESS HOHENWERFEN:
---
Tel: +43 (0)6468 / 7603
Web: www.salzburg-burgen.at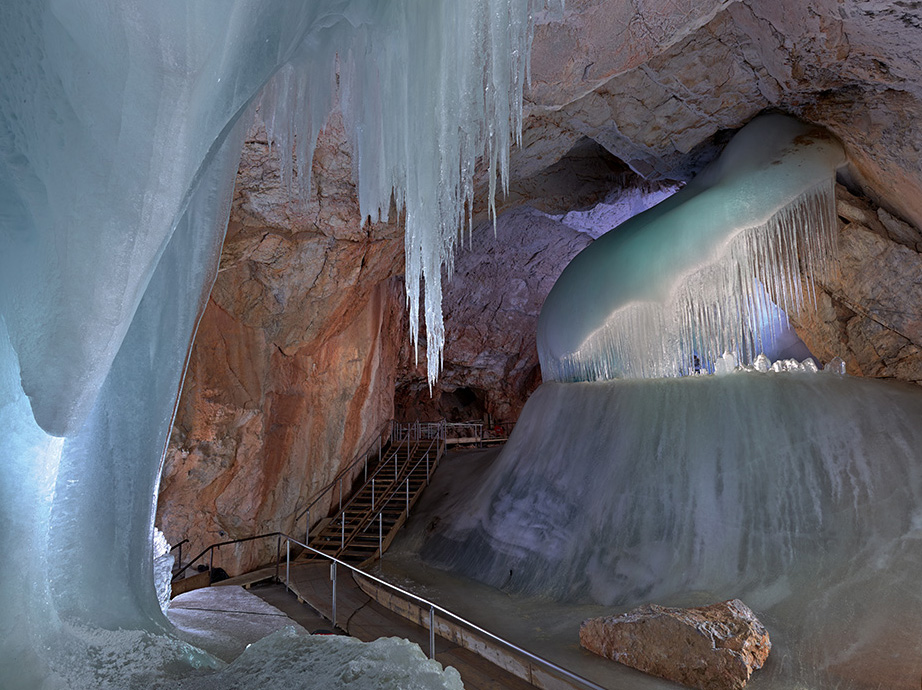 Eisriesenwelt (Ice-Giants' World) – the largest ice cave in the world
Another highlight that can be reached within a merely 25-minutes ride to the town Werfen is the with its incredible total length of 42 kilometers largest ice cave in the world – the Eisriesenwelt, literally translated as "Ice-Giants' World". Cold air is sucked into the cave. Owing to the rising temperatures in spring, the ice begins to melt, causing water to seep into the cave, eventually freezing again. Through this and other complex processes, enormous, breathtaking ice-sculpures – the "Ice Giants" – are formed.  
Eisriesenwelt:
---
Tel: +43 (0)6468 / 5248
Web: www.eisriesenwelt.at
Mozart-town Salzburg
Visit the internationally-known Salzburg town, which offers numerous cultural attractions. Whether it be the enchanting Mirabell Palace or Hellbrunn Palace's trick fountains, or the Getreidegasse alley with Mozart's birth house – the city holds something for everyone. Even an apparently simple Old City stroll will give you an unforgettable experience.  
MOZART-TOWN SALZBURG – MORE INFORMATION:
---
Tel: +43 (0)662 / 88987-0
Web: www.salzburg.info.de